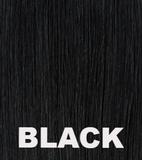 OUTRE
Velvet Remi Yaki / 14"
Velvet Remi Yaki / 14"
$89.99
100% Premium Yaki Human Hair.
THE OUTRE DIFFERENCE
"Our Experience in the market assures you of only the finest 100% Human Hair. Our Exclusive sources around the world allow us to purchase the best quality human hair available top-grade product that meets our stringent high-quality standards. You will find no better product on the market today." 
Contact us for more color options.